Prof. Liu Yansui Honored with the Third National Innovation Pacesetter Award
On May 30th, 2023, the 7th National Science and Technology Workers' Day, the Third National Innovation Pacesetter Award Ceremony was held in Beijing. Prof. Liu Yansui from the Institute of Geographic Sciences and Natural Resources Research (IGSNRR) of the Chinese Academy of Sciences (CAS) was honored with the Third National Innovation Pacesetter Award.
His major contributions to the nation's significant needs and social services include:(1)Innovating and developing rural areal system theories and detection systems, providing comprehensive services for national targeted poverty alleviation and rural revitalization strategies.(2)Leading the development of modern agricultural models and key technologies, providing refined services for regional agricultural and rural development and land consolidation projects.(3)Summarizing and promoting China's targeted poverty alleviation solutions and engineering technologies worldwide, leading and serving the international sustainable poverty reduction and development strategies.
The National Innovation Pacesetter Award, approved by the state, is an important scientific and technological award following the National Natural Science Award, National Technological Invention Award, and National Science and Technology Progress Award. It is a crucial part of the national science and technology reward system and a supplement to major talent plans. The award mainly honors individuals and groups who have made outstanding contributions in fields such as cutting-edge science, economic battlegrounds, national essential needs, public health, and social services. Since its establishment in 2017, the award is presented every three years, with no more than ten research teams receiving medals and up to 300 scientific and technological workers receiving certificates.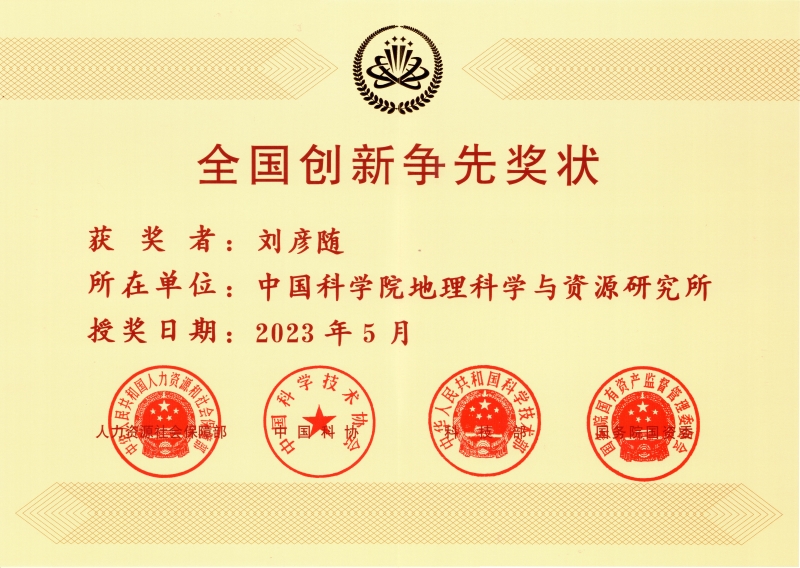 Personal profile
Liu Yansui is a professor of IGSNRR, the Fellow of The World Academy of Sciences, the Fellow of Geographical Society of China,and the Yangtze Distingushed Scholar. He is the Director General of Key Laboratory of Regional Sustainable Development Modeling, CAS, the Director of the Center for Regional Agriculture and Rural Development (CRARD) at IGSNRR, CAS; the Director of the Center for Assessment and Research on Targeted Poverty Alleviation, CAS; the President of Yellow River Institute of Shaanxi Province; the Chairman of International Geographical Union Commission on Agricultural Geography and Land Engineering (IGU-AGLE); the Chairman of the Alliance of Poverty Reduction and Development (APRD), ANSO. He is also the Head of Specialist Group for "Third Party Assessment on the Effectiveness of Targeted Poverty Alleviation" project in China. He has been awarded as the Leading Talent of Technological Innovation by Ministry of Natural Resources in 2018 and China's National Excellent Scientist in 2012. He is serving as Member of Editorial Board for over 5 journals, including Associate Editors of Land Use Policy, Economic Geography, etc.
His researches focus on agriculture and rural development, land resources engineering, urbanization and new countryside construction, targeted poverty alleviation and rural vitalization, etc. He has been in charge of more than 70 projects, including key projects of the National Natural Science Foundation of China and National Key Research and Development Programs, etc. He has published more than 500 papers, of which over 190 are in SCI/SSCI indexed journals, and has been selected as Elsevier Chinese Most Cited Researchers in Social Sciences since 2015, and was selected as one of Global Highly-Cited Researchers since 2018. He was awarded the TWAS Prize, IGU Distinguished Geographical Practice Award, the Technology Development Promotion Prize from CAS. He was also invited to host one parallel session Rural and Farmers in Transition at the Boao Forum for Asia Annual Conference 2018.